engshell is an English shell for any operating system, powered by LLM.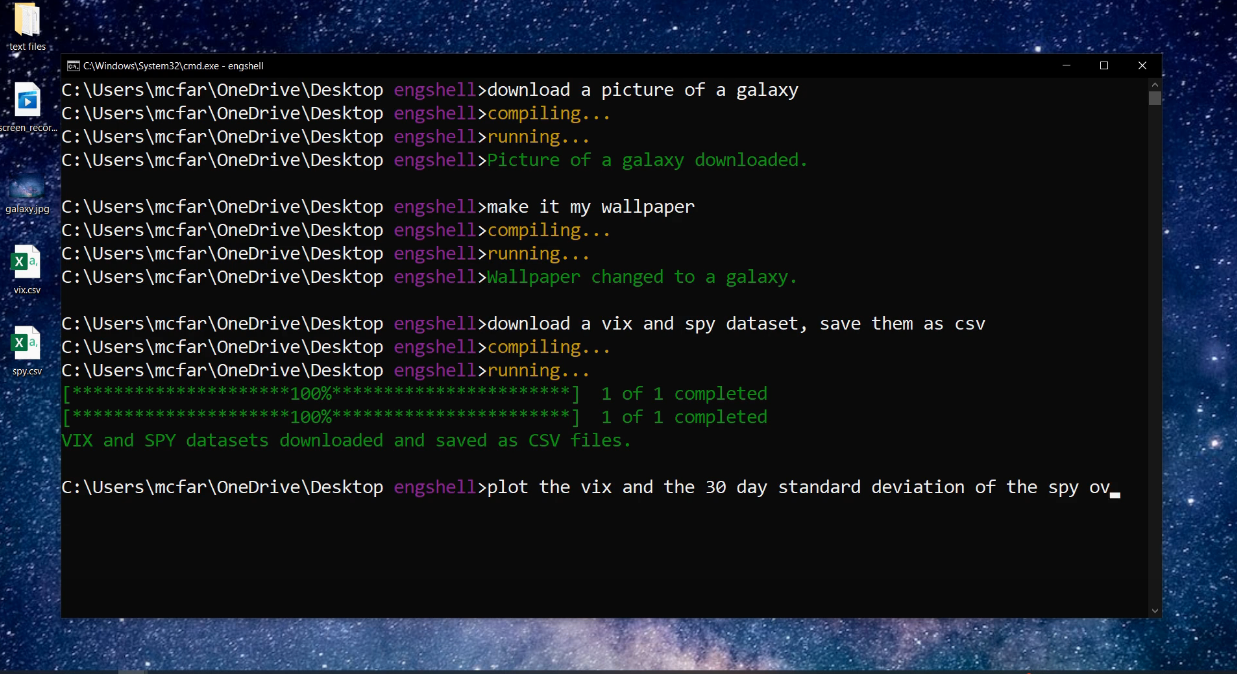 how to use
Installation dependencies:

pip install -r requirements.txt
Create in the engshell directory

keys.py

definition

OPENAI_KEY
run

python engshell.py

open engshell

Optional: Add the engshell directory to your PATH environment variable to access it from anywhere.
notes:
--llm LLM queries are encouraged from code execution.
--debug Allows engshell to debug its own code when it fails.
--showcode Show the code being executed.
clear Reset engshell's memory and console.
example
Note that English is required for interaction, and Chinese is only for understanding:
record my screen for the next 10 seconds, then save it as an mp4.
Record my screen for the next 10 seconds and save it as mp4.
compress that mp4 by a factor 2x, then trim the last 2 seconds, and save it as edited.mp4.
Compress the mp4 by a factor of 2, then trim the last 2 seconds, and save it as edited.mp4.
check the weather, then ask gpt3 what i should wear today
Check the weather and ask gpt3 what should I wear today
print files in current directory in a table by type
Print the files in the current directory in a table by type
Use DALL-E to generate a picture of a cat wearing a suit, then open my web browser to the picture
Use DALL-E to generate a picture of a cat in a suit, then open my web browser to the picture
save text files for the first 10 fibonacci numbers
Save the first 10 Fibonacci numbers in a text file
print headlines from CBC CBC's headlines
print a cake recipe, then open up amazon to where i can buy these ingredients. open each ingredient in a new tab
Printed out a cake recipe and then opened up Amazon to where I could get the ingredients.Open each ingredient in a new tab
make my wallpaper a picture of a castle (requires UNSPLASH_API_KEY to be set)
Set my wallpaper as a castle image (requires UNSPLASH_API_KEY to be set)
Complexity test:
get info about france economy from wikipedia, then make a word doc about it –llm
Get information about the French economy from Wikipedia, then make a document about it –llm
solve d^2y/dx^2 = sin(2x) + x with sympy –debug
Use sympy –debug to solve d^2y/dx^2 = sin(2x) + x
find the second derivative of C1 + C2x + x**3/6 – sin(2x)/4 with respect to x –debug
Find the second derivative of C1 + C2x + x**3/6 – sin(2x)/4 with respect to x –debug
make a powerpoint presentation about Eddington Luminosity based on the wikipedia sections –debug -llm
Make a powerpoint presentation about Eddington Luminosity based on Wikipedia section –debug -llm
download and save a $VIX dataset and a $SPY dataset
Download and save a $VIX dataset and a $SPY dataset
merge the two, labeling the columns accordingly, then save it
Merge the two, label the columns accordingly, and save
#engshell #homepage #documentation #downloads #shell #supports #natural #language #interaction #News Delivery